Commitment to plant management
We offer "Green Care Service", a planting maintenance and management service by greenery experts. The quality of green spaces can be improved through proper management based on a long-term plan. We carry out daily maintenance while assessing the condition of the plants and the environment of the site.
What's "Green Care Service"?
We manage the plants from the perspective of plant physiology, so that they can reach their full potential.
We carry out appropriate planting management based on our extensive knowledge, skills, and years of experience in plants. We will propose a long-term planting management plan, including renovation, to create the ideal green for our customers.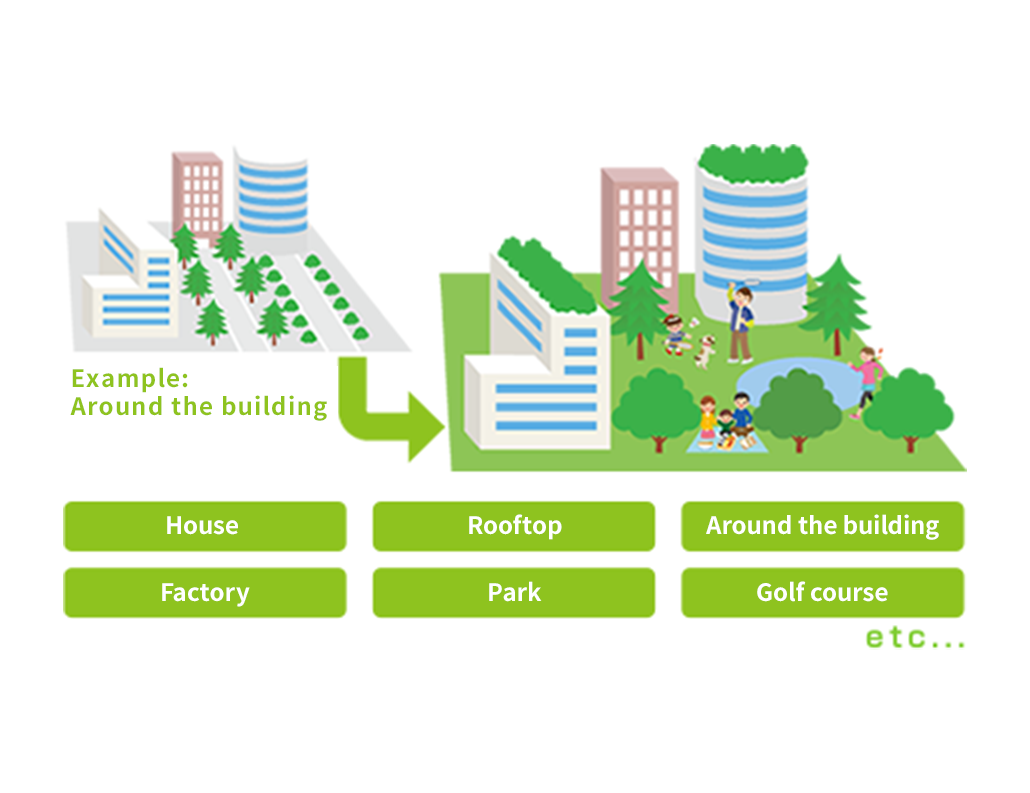 Soil diagnosis
Knowing the condition of your soil is the first step to maintaining healthy plants. This is because healthy plants are supported by healthy soil. For areas where plants are not growing well, we suggest soil diagnosis. By collecting data on the condition of the soil, if there is a problem, we can perform appropriate soil improvement based on the data.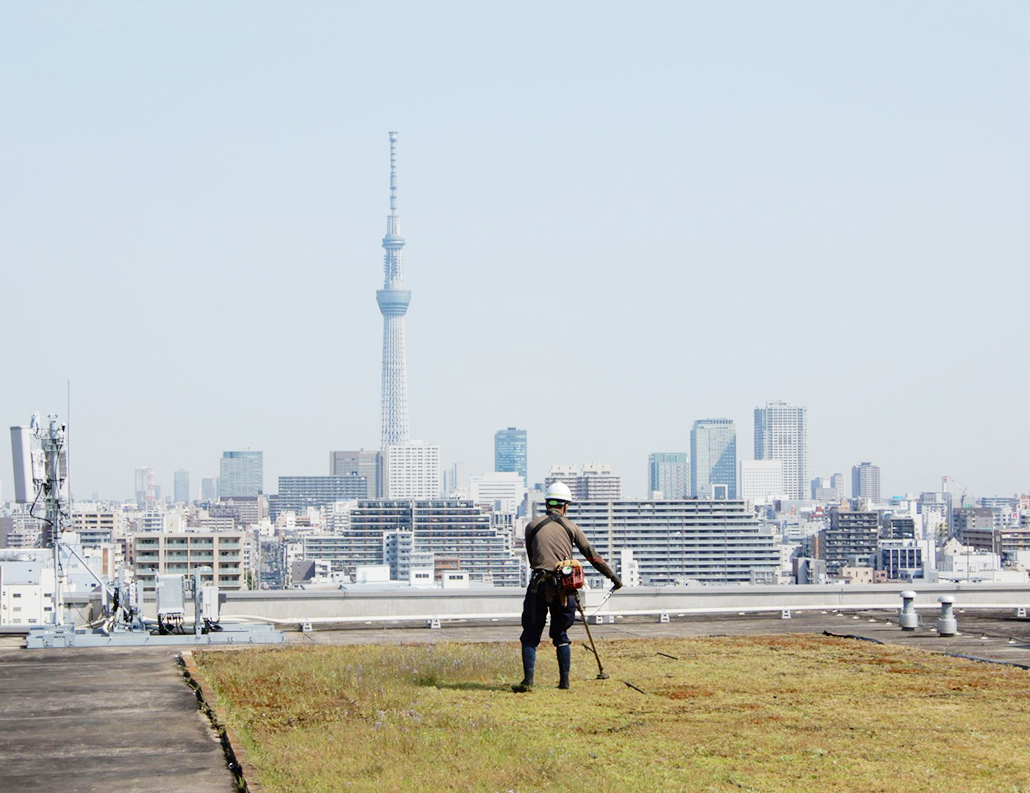 Organic Care
Caring for the future environment is a major responsibility for the companies.
Spraying chemicals on trees that are prone to pests and diseases is an important part of the process.
But we will provide a green environment that is friendly to children and pets by implementing maintenance that draws out the power of the plants themselves, and reducing the use of chemical pesticides and fertilizers in consideration of the natural environment.
*It is required to prevent the damage caused by pesticide spraying. "Pesticide use in residential areas" (from Japanese Ministry of the Environment, No. 1304261)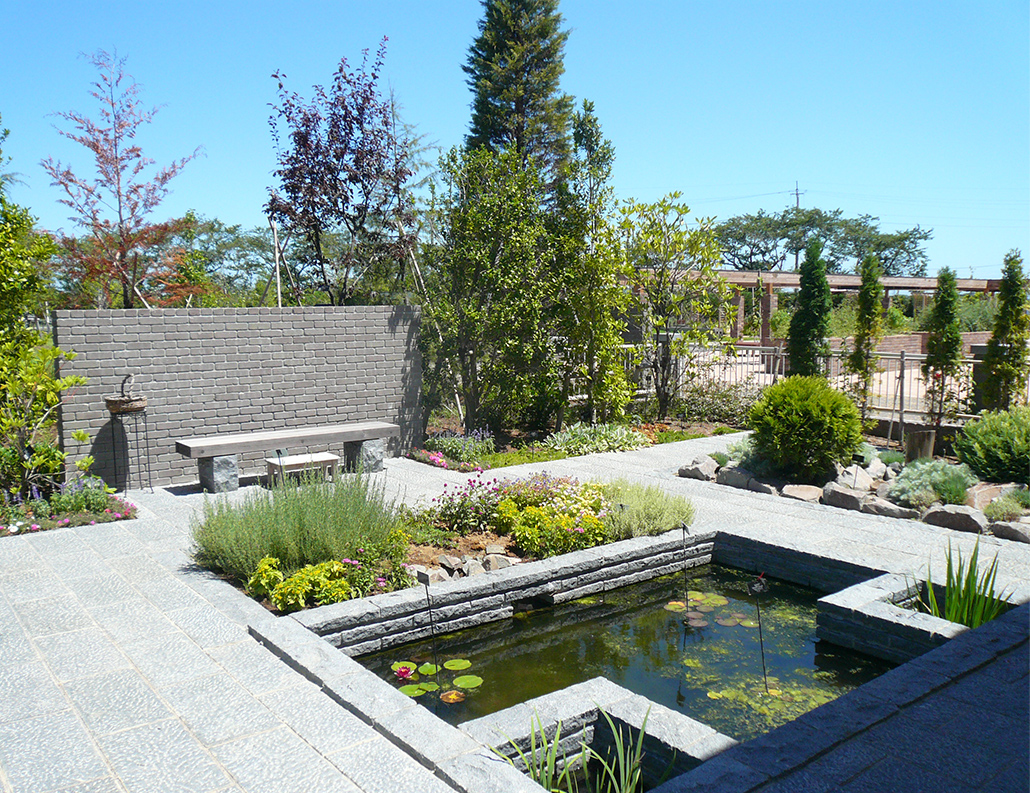 Plant Diagnosis
Tree diagnosis is necessary not only to support healthy tree growth chemically, but also to detect the danger of falling trees and falling branches in advance. First, a visual diagnosis is made to check the vigor and shape of the tree, as well as the symptoms that appear on the surface of the tree. If any problems are found, we will perform an internal diagnosis using precision machinery and propose an appropriate prescription.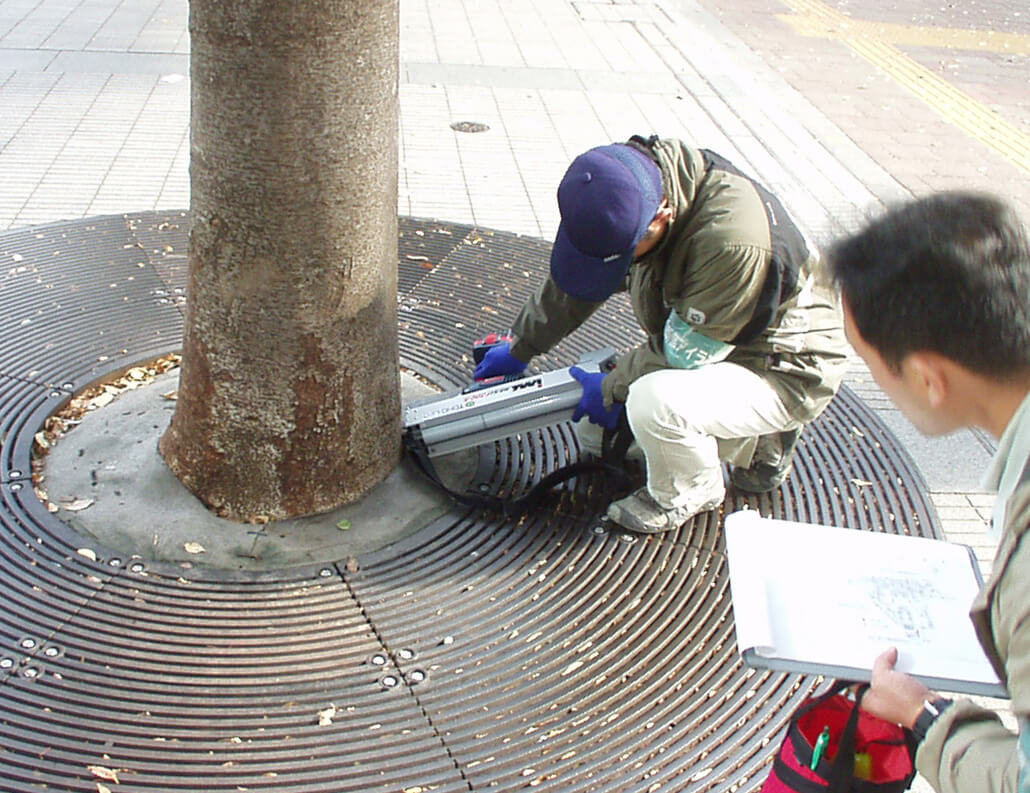 Who are the "Greenery Experts?"
They are a group of highly experienced and knowledgeable professionals about green. Arborists, agronomists, pesticide supervisors, green advisors, landscape designers, and other green space management experts are ready to assist you.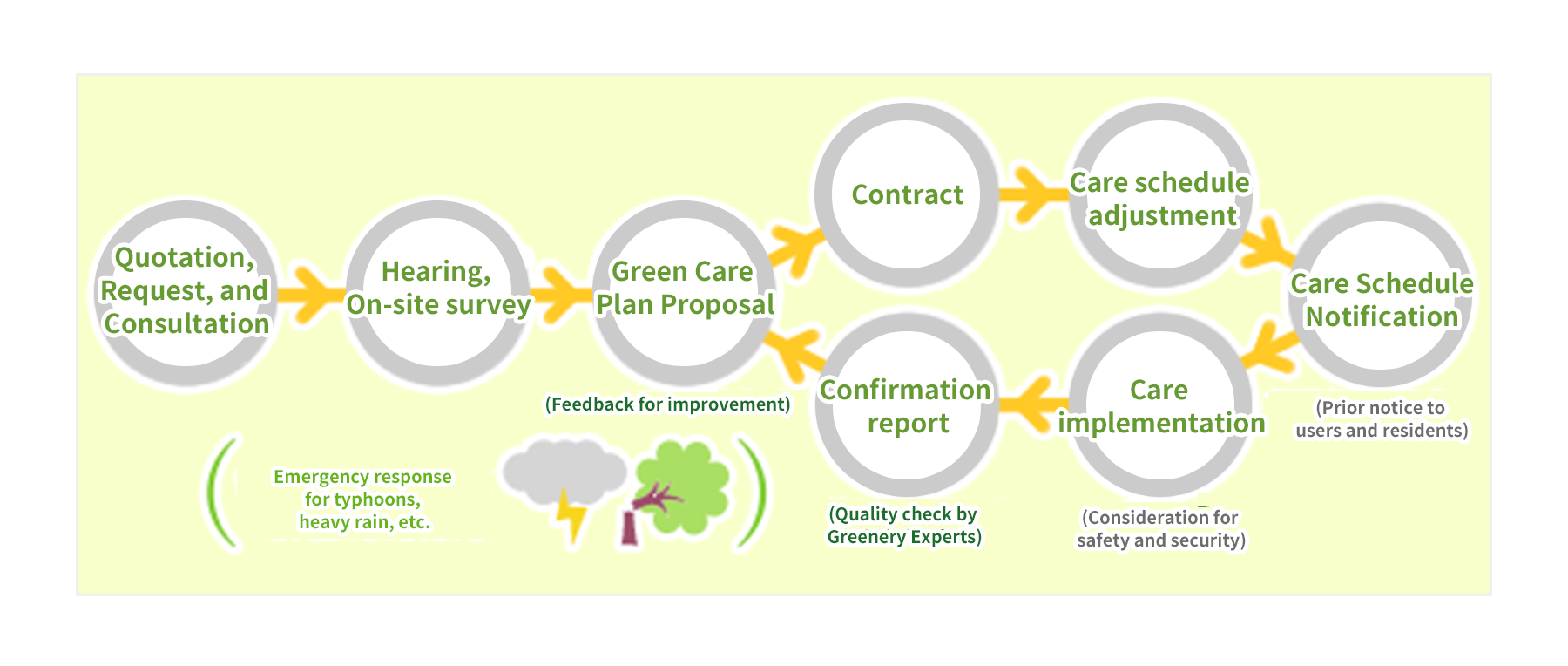 POINT 1

Consideration for safety and security

In accordance with our safety management manual, we ensure the safety before carrying out work. We carry out hazard assessment during work, wear helmets, set up colored cones, and take other safety measures in the neighborhood. We also provide safety training to our workers to prevent accidents.

POINT 2

Quality check by Greenery Experts

After the maintainance, Greenery Experts do the quality check.
We prepare a work report after the maintainance and inform the customer. If there are any findings of concern, such as dead trees or insects, we will also report them to you for improvement.

POINT 3

Feedback on improvements

We will make a comprehensive assessment of the condition of the greenery and the status of maintenance, and propose a new maintenance plan to improve the green space. We can also propose renewal plans to increase asset value, such as replanting or renovation of flowerbeds when plants become weak long after construction is completed. In addition, we can propose the wreaths of fresh flowers and ornamental plants for entrances, and offer gardening classes.

POINT 4

Emergency response

If you have any urgent matter, please contact us.
(In the event that a tree falls or leans due to a natural disaster such as a typhoon, etc.)
Inquiry about Greening business, products, and services

Contact information for greening projects
Contact