A society to coexist with greenery.
An environment with safe drinking water
Green & Water Corp. supports the SDGs (Sustainable Development Goals) advocated by the United Nations and make various efforts to achieve the SDGs.
We prevent river pollution by treating wastewater according to the standard value. We will also provide safe drinking water to people in developing countries who cannot secure safe water.

Due to the effects of deforestation and global warming, the earth is becoming desertified year by year. We promote urban greening and contribute to the prevention of temperature rise due to the heat island phenomenon.

Declaration
Green & Water Corp. is committed to the SDGs as a survival strategy to develop as a sustainable company and coexist with society.
INITIATIVE 1

Collection of PET bottle caps

Collected caps are exchanged to the vaccines through collection company, and donated to "NPO Japan Committee for Vaccines for the World's Children (JCV) ".
Cumulative total: 15,050 units (as of January 21, 2020)
Vaccines for 17.5 children

INITIATIVE 2

Reduction of industrial waste

Excess materials are used at other sites to reduce industrial waste.
In addition, we use environmentally friendly and easily recyclable materials for walls and other construction.

INITIATIVE 3

Using rainwater for toilets

We use rainwater for the toilets installed at work sites.

INITIATIVE 4

Stockpiling emergency supplies

We have secured emergency supplies (helmets, blankets, stored water, food, etc.) for all employees in case of emergency.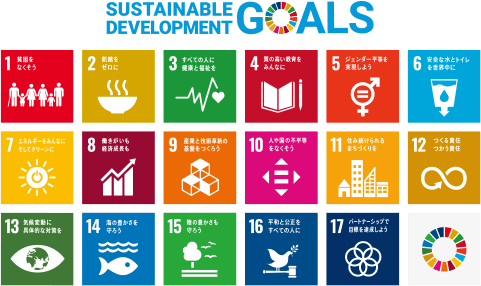 What's SDGs
The SDGs (Sustainable Development Goals) are 17 goals for the period from 2016 to 2030, which were included in the "2030 Agenda for Sustainable Development" adopted by 193 countries at the United Nations Summit in September 2015.
(From the United Nations Information Center website)